15 August is National Mourning Day in Bangladesh to remember and mourn the brutal murder of the nation's first president, Sheikh Mujibur Rahman, and most of his family. He was a charismatic nationalist leader, led the Bengali independence movement, and is regarded as the Father of the Nation. This year is the 46th anniversary of Bangabandhu's tragic assassination.
We bring you the top 6 memorable quotes from renowned people about this legendary leader: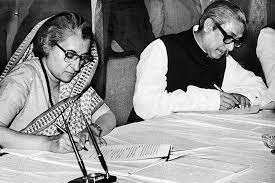 Indira Gandhi, Former Prime Minister of India
"I'm broken by the news of Sheikh Mujib's death. He was a great leader. His extraordinary heroism has been a source of inspiration for the people of Asia and Africa."
Fidel Castro, former President of Cuba
"I have not seen the Himalayas. But I have seen Sheikh Mujib. In personality and in courage, this man is the Himalayas. "
Pranab Mukherjee, former President of India
"Sheikh Mujib was a pioneer who fought for establishing people's rights and dignity in one of the most profound struggles for liberation in the twentieth century."
Sonia Gandhi, President of Indian National Congress
"Sheikh Mujibur Rahman was a brave leader. The Bangali nation and the people of the world will remember him forever for his role."
Harold Wilson, former Prime Minister of Britain
"This is surely a supreme national tragedy for you. For me, it is a personal tragedy of immense dimensions."
Mohammed Hassanein Heikal, Egyptian journalist
"Sheikh Mujibur Rahman does not belong to Bangladesh alone. He is the harbinger of freedom for all Bangalis."
On this day, the national flag is flown at half-mast at government, educational, organizational, and other buildings throughout the land. The Awami League also raises a black flag at all of their party offices on the morning of 15 August, the time when the brutal killing was discovered in 1975. This day is announced as a holiday and the whole day is one of great solemnity and given great respect and honor. The president and prime minister deliver speeches and lay flower wreaths at Sheikh Mujib's monument.