Valentine's Day is one of the most special and exciting days which we celebrate. We love to dress up in a fashionable way for that day. Because we meet or set a plan with our beloved on that day. This day is all about love.
Certainly, women love to dress them up in a fashionable and stylish way. Today we will highlight the most trending women's wear for Valentine's Day. This day makes all people so excited, exclusively ladies get more excited sometimes! So let's have a look at some most trending and popular ladies' fashions for Valentine's Day.
With a Red Blazer On
Even if you must work from home the whole day, you may still dress up for Valentine's Day. The ideal clothing item to move from a Zoom conference to a quick first date is a red blazer. Since it adds a pop of color and cuteness to a more relaxed ensemble. Don't forget to wear your red jacket if you have one with red shoes!
Match Red Jewelry with a Pink & White Wardrobe
An elegant white and pastel pink ensemble can appear when accessorized with bold red accessories like a handbag and shoes. The fun part is that you can use whatever stuff you currently have in your wardrobe to make this work. Then, complete the look with your preferred red statement items to get set for Valentine's Day! Lacking red accessories? No issue! Any pink or red-colored accessories will do the trick. Even light pink shoes with a feminine flare and a handbag in mauve will do!
A Slip Dress is a Solid Hit
A smooth or silk slip gown will always remain one of the most ageless items you can buy. Despite satin having just been "trendy" Gen Z. Silk dresses have a feminine form and are smooth to the touch. It makes them ideal for Valentine's Day. Slip dresses are astonishingly adaptable to anything. Such as adding heels for nighttime out, and a shirt underneath for a relaxed feel. Or a jumper on top for an ensemble that works for any occasion, day or night. The design and softness of the dress quickly exude that romantic atmosphere. Most importantly, regardless of what color it is for Valentine's Day.
Trying the Black Heart Vibe
Red and pink have the sensuous, seductive complement of black. Black jeans, a skirt, a jumpsuit, or a modest black dress worn with your go-to shirt are always good choices. You may reuse your black dress for several additional occasions throughout the year. Because black is a color that exudes simple elegance. For a Valentine's Day romantic dinner, black silky, satin, or net is very seductive and makes you feel absolutely lovely.
T-Shirt with Love Messages
Do you want to retain it charming and casual? Wear a shirt with a heart or a nice statement about love on it in honor of Valentine's Day! Style it up with just a satin skirt and shoes or wear it up with jeans or leggings! Even better, present yourself with a Valentine's Day tee from a thrift store to support a local company.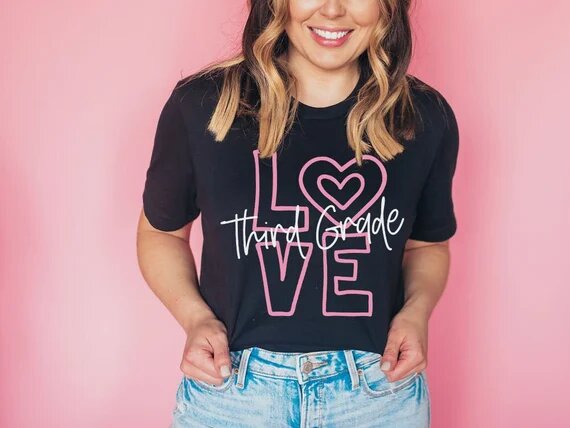 Lastly, I will say that we should wear what makes us comfortable. If you're not comfortable with your dress, you may lose your confidence or feel uneasy to do your work. So comfort is the main concern whatever the event or occasion is.