The locals hold each of these in the highest regard. Continue reading for reviews of the top 6 restaurants in India. And that were chosen for their outstanding service, ground-breaking chefs, responsible sourcing, and innovative ingredients.
There are many different Indian foods and dishes available in India restaurant and every state and region has a few unique traditional foods check below: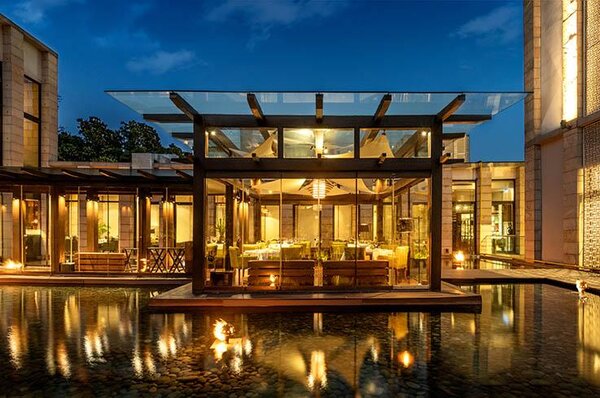 1. Indian Accent, New Delhi
One of the most coveted restaurants in India and New Delhi is Indian Accent. Indian cuisine is masterfully created by chef Manish Mehrotra to keep its original charm while also incorporating a touch of modernism. Indian Accent is the spot to go for a memorable supper because of its butter chicken kulchas, melt-in-your-mouth Naans, delectable daals, and superbly prepared, creative desserts.
Moreover, other outstanding dishes on the menu include tandoori bacon prawns, soft-shell crab with tomato chutney, and pig belly tikka, but don't forget the wasabi and cucumber Raita, raw and ripe mango Daulat ki chaat, and of course, the unique Indian Accent Kulfis.
And finally, finish it off with some carrot Halwa crumble and whiskey ice cream, then sip some sparkling wine or one of Indian Accent's classic cocktails.
Location> Indian Accent, The Lodhi, Lodhi Rd, CGO Complex, Pragati Vihar, New Delhi, Delhi 110003, India
Website> indianaccent.com
2. The Table, Mumbai
While transforming to reflect the expanding bounty available at the restaurant's namesake farm in Alibag, the food at The Table has stayed fairly consistent. The cuisine at this restaurant draws its influence from several nations, giving Chef Divesh Aswani the freedom to tinker with regional specialties, update age-old recipes, and try out new ingredients.
Items like the boneless chicken wings, the Table salad (all of whose components are sourced from the restaurant's farm), the yellowfish tuna tataki, and the avocado toast with sourdough from sibling company Magazine Street Kitchen are among the dishes that have established themselves as menu staples.
Location> The Table, Ground Floor, Kalapesi Trust Building, Apollo Bunder Marg, Colaba, Mumbai, Maharashtra 400039, India
Website> thetable.in
3. Bomra's, Goa
Bomra's, Goa's best-kept Burmese secret, is located in the country of fish curry and feni. A short distance from Fort Aguada Road in Candolim, this casual dining establishment has gained quite a following. Although the restaurant mostly serves Burmese food, it also features elements from China, India, Laos, and Thailand.
Bomra's is an outdoor restaurant operated by chef patron Bawmra Jap that features a straightforward but distinctive style. Bawmra Jap takes great satisfaction in obtaining the freshest produce from Goa's markets, and he is renowned for being a master at cleaning all that fresh fish.
There is a fantastic assortment of seafood on the menu. Some of the locals' favorites include the red snapper, black pomfret, and mussels, and a very intriguing tomato salad is the ideal side dish. The pork and pomelo salad is a delicious way for meat eaters to start their lunch, while the tender tuna has been known to make grown men cry with happiness.
Location> Bomra's, 247, Fort Aquada Road, Candolim, Goa 403515, India
Website> bomras.com
4. Toast & Tonic, Bengaluru
This Bengaluru favorite celebrates everything regional while keeping an eye on what the rest of the world is eating. Manu Chandra, the chef, never stops innovating. The components are of the highest quality, including bandel from Kolkata, Naga chillies, perilla seeds from Shillong, chocolate from Pondicherry and coffee from Coorg and Chikmagalur, tea from Munnar, and pork from Tamil Nadu.
The majority of what is served on the plate is homemade, including the slices of bread, sauces and garnishes, sausages, and meats, including the crisp soft-shell crab from Bhimavaram, the soft eggs and fresh andouille sausage on sourdough toast with green mustard spread, and the smoked Bandel and gin mustard hollandaise.
Location> Toast & Tonic, 14/1, Wood Street, Ashok Nagar, Bengaluru, Karnataka 560025, India
Website> toastandtonic.com
5. Megu, New Delhi
While maintaining genuine Japanese flavors, Megu reinvents traditional Japanese cuisine. Sumibi aburiyaki, a creative grilling method that employs bold ingredients imported from Tokyo's Tsukiji market and unique bincho-tan charcoal, is used to cook all dishes. The lavishly designed rooms give guests a feeling of glitz and grandeur.
Start your lunch with a fresh hikiji salad, which features cherry tomatoes, edamame, and seaweed all tossed together with sweet sesame sauce. The tofu caprese, the sushi and sashimi plate, the pan-seared lobster, and the Wagyu beef on a hot stone.
For vegans, the crispy asparagus covered in rice crisp is a must-try. The berry, mango, and strawberry trademark sorbets, the yuzu tart, or the wasabi cheesecake are great ways to finish your dinner and leave a taste of Japan on your palate. There is a sizable wine list with more than 600 labels, as well as 60 different varieties of the strong and delectable sake from Japan.
Location> Megu at the Leela Palace, Africa Avenue, Chanakyapuri, New Delhi
Website> theleela.com
6. Trishna, Mumbai
When December rolls around, Trishna is always crowded with diners eager to get their fill of butter garlic crab, Hyderabadi dal, and of course, fish koliwada. Regulars who like the top-notch seafood served here throughout the rest of the year insist that their crab be brought out before it is cooked as they sip the first of many beers. Newcomers frequently ponder whether the location is just hype. All of their skepticism is dispelled with the first bite of neer dosa with fish in green masala.
Location> Trishna, 7, Saibaba Rd, Kala Ghoda, Fort, Mumbai, Maharashtra 400001, India
Website>trishna.com