Faces Of Our Future: Young Activists To Watch
By Alice Hudson
Greta Thunberg has led the way for a new generation of activists fighting to change the world, but she is not alone – there is a whole new wave of young voices. For the first time ever, the World Economic Forum has welcomed young change-makers to their Davos annual forum. Teenagers are raising their voices against issues such as climate change, gun violence, and indigenous rights.
Meet the faces of our future;
Mari Copeny
Amariyanna Copeny ('Mari'), is better known as 'Little Miss Flint'. The 13 year old, from Flint, Michigan, is best known for her work raising awareness for the ongoing water crisis in Flint. At 8 years old, Copeny wrote to President Obama concerning the Flint Water Crisis, and he visited Flint first-hand, to meet Mari, in May 2016, leading him to authorise $100 million to resolve the crisis.
Copeny has partnered with Pack Your Back, raising money for school supplies for local children; initiated a GoFundMe to send low-income black children to see the Black Panther movie to improve their self image; started the 'Dear Flint Kids' project, sending letters of encouragement to the children of Flint; and organised Christmas and Easter parties for the underprivileged.
"…it was the start of a marathon, a kick off to a movement, the rise of a generation that WILL change the world."
Autumn Peltier
Canadian 15 year old, Autumn Peltier, is is an Anishinaabe-kwe, and a member of the Wikwemikong First Nation. At the age of 8, Autumn attended a ceremony at the Serpent River Reservation, and saw a sign warning the water was unsafe. Learning not all Canadians has access to clean water, due to industrial activity and oil pipelines, she became a "water warrior". Aged 12, she confronted prime minister Justin Trudeau, unhappy with his policies, and he promised her change; since 2015 87 long-term water advisories in Canada have been lifted.
In 2019, Autumn was named Chief Water Commissioner by the Anishinabek Nation, representing 40 First Nations in Ontario, meeting with leaders and speaking internationally about indigenous rights to water. She also spoke at the UN about the importance of water conservation and access, drawing on the sacredness of water in her culture. Peliter was nominated in 2019 for an International Children's Peace Prize.
"Kids all over the world have to pay for mistakes we didn't even make. This is our future, we're the next elders, we're the next leaders. This is our future."
Salvador Gómez-Colón
16 year old Gómez-Colón is from San Juan, Puerto Rico, and experienced the devastation caused by Hurricane Maria in 2016. His community faced no power of electricity for a year. Gómez-Colón created the "Light and Hope for Puerto Rico" campaign, which raised $100,000 and distributed solar-powered lamps, washing machines and supplies to over 3000 families on the island. He has since launched "Light and Hope for the Bahamas", and continues to support the implementation of smart energy systems. Salvador was named one of TIME Magazine's 30 Most Influential Teens of 2017, and he also received the President's Environmental Youth Award from the US Environmental Protection Agency. In 2019, Gómez-Colón was awarded the Diana Award for his humanitarian work.
"We can all create change and do good, but we must take responsibility, drive action, and take action."
Naomi Wadler
13 year old Naomi Wadler is an American activist from Washington D.C. In 2018 she organised a walkout with 60 fellow classmates at her school, to mark the one-month anniversary of the school shooting at Marjory Stoneman High School in Florida. Her walk out was 18 minutes long; one minute for each life lost, and one for African American student, Courtlin Arrington, who was murdered shortly after the Parkland shooting. Naomi aims to empower African-American girls, and to commemorate those lost to gun violence. She spoke at the March For Our Live in D.C., the youngest speaker at the rally, talking about how black females are disproportionately affected by gun violence. Wadler has since spoken at the Women in the World Summit, and the Teen Vogue summit, as well as the Tribeca Film Festival. She was named as one of Teen Vogue's '21 Under 21'. and shared a New York Magazine cover with Barbara Streisand.
"I am here to acknowledge and represent the African-American girls whose stories don't make the front page of every national newspaper."
Ayakha Melithafa
17 year old, Ayakha is from the Eerste River village on the outskirts of Cape Town, South Africa. Her livelihood has been threatened by droughts and severe water shortages, and this prompted her activism. Melithafa contribues to 'Project 90 by 2030'; an organisation committed to a 90% carbon reduction by 2030. She also serves as a recruitment official for the African Climate Alliance. In 2019, Ayakha and 15 other children filed a complaint to the UN Committee on the Rights of the Child for failing to address the climate crisis.
"People who are older aren't paying as much attention because they will not be as affected. They don't take us children seriously, but we want to show them we are serious."
Melati Wijsen
Melati Wijsen is an Indonesian/Dutch 19 year old from the island of Bali. She recalls swimming as a child, and getting out of the water with a plastic bag wrapped around her. This prompted her anti-plastic activism. Wijsen founded "Bye Bye Plastic Bags" with her little sister when she was just 12, organising petitions, campaigns and massive beach clean-ups in Bali. Since her campaigning, Bali has announced a legal ban on single-use plastic. In 2017 Melati was selected as one of Forbes top ten inspiring women, and alonside her sister she was part of TIME Magazine's Most Influential Teens. She has spoken on numerous world stages including TED, the EU parliament, and the UN, and she was invited to the 2020 Davos summit.
"I want to create a new story for youth to believe and a new society for humanity to live in. CHANGE – It will be the only constant factor in our lives and its up to on how we embrace it."

Mohamad Al Jounde
18 year old Syrian Mohamad Al Jounde's family was forced to flee his home country for Lebanon for safety, and they then fled again to Sweden. He experienced, like many other refugee children, the inability to attend school, and this prompted him to help others in a similar situation. With the help of his family, Mohamad aged 12, built a school in a refugee camp with his own hands, and then began to teach mathematics and photography in the school. The refugee camp was removed by the government, and the school destroyed, but it has now been professionally rebuilt and staffed with teachers who provide education for 200 children. In 2017, Mohamad was awarded the International Children's Peace Prize, and he won the MTV Generation Change Award in 2018.
"The future is unknown, so I'm focusing on what I can do now."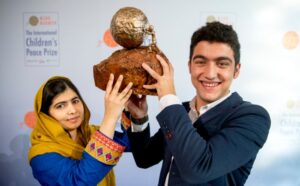 Natasha Mwansa
Zambian Natasha Mwansa is an 18 year old activist, advocating for the health and well being of young Africans, and against child marriage. Mwansa is a Junior Reporter, Child Journalist, Child and Women's Rights Advocate and Activist at the Media Network on Child Rights and Development. She is responsible for tracking stakeholder progress and gathering health information. She founded the Natasha Mwansa Foundation to promote a world where young people are 'heard, valued, and healthy'. She was selected to be part of the African Union Commission's Youth Advisory Board, and was the youngest recipient of the WHO's Global Health Leader's Award.
"There is no way you can be making decisions for us and not include us. Then all you do is just let us become beneficiaries. That's not happening anymore!"
The new issue of WhatsOn is out now. Subscribe here to get your copy.

WhatsOn Calling…
If you like WhatsOn, why not do us a favour. More & more people getting involved and supporting WhatsOn. We are independent & progressive, unlike many corporate media - We know you want WhatsOn to benefit as many people as possible Now we need your support, WhatsOn will continue to engage with cutting edge events, news & reviews of our times and hold power to account & champion social justice. WhatsOn's independence means, we are free from corporate & commercial bias. However, we need your support to give a voice to the voice less and keep our independence. We rely on the support of our readers and any amount , big or small, makes a valuable difference. Thank you. SUPPORT WhatsOn!