5 Ways latest Glastonbury headliner Taylor Swift rocked 2019
Taylor Swift has confirmed via social media that she is the second headliner for next year's Glastonbury Festival.
The pop and country music superstar revealed the news on Twitter yesterday (15 Dec), stating: "I'm ecstatic to tell you that I'll be headlining Glastonbury on its 50th anniversary – See you there!"
The revelation that she will be headlining the Pyramid Stage on the Sunday, also confirmed by Glastonbury boss Michael Eavis in a video message, follows the announcement that Paul McCartney will top the bill on the Saturday, and growing rumours that Kendrick Lamar will take the Friday main slot.
It has already been quite a year for Swift, as highlighted in our WhatsOn Christmas guide and special feature here.
Here are 5 more ways the American star rocked 2019:
1. So much love for new chart-topping album
This summer saw the release of Swift's seventh album, Lover which racked up the biggest first week sales of 2019, selling a phenomenal 450,000 copies in a single day according to Billboard and going straight to the top of the charts around the world.
The album tracks and accompanying music videos saw a return to Taylor's softer side following the darker style of previous album Reputation, and has garnered critical acclaim as well as three Grammy nominations.
2. Artist of the year – and the decade!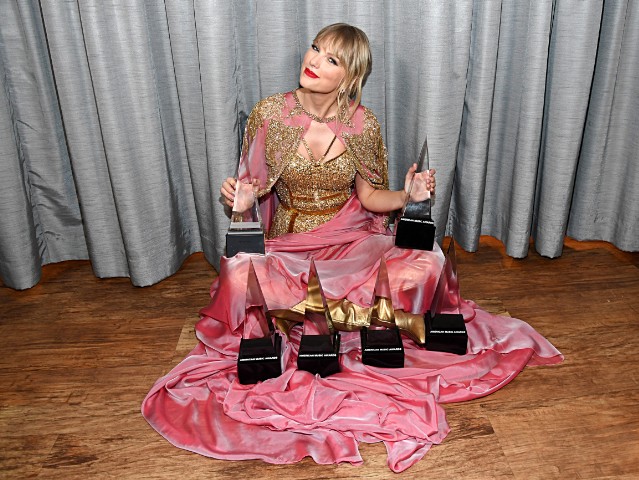 Whether or not you are a fan of Swift, there is no denying that she will go down in music history.
If it wasn't enough that she secured the Artist of the Year accolade at this year's American Music Awards, beating the likes of Drake and Ariana Grande, she had already been named as the recipient as Artist of the Decade.
In fact she ended up taking home six AMA awards this year, which means she now has a total of 29, racing past Michael Jackson's previouslyheld record of 24.
3. Fabulous in Forbes and Terrific in Time
Taylor has not just been topping the music charts this year, but was also number 1 on the Forbes Celebrity 100, which lists the 100 highest-paid celebrities. It is not the first time she has topped this list, as she was also the highest earner in 2016.
She also was named as one of the year's 100 most influential people and as an icon in Time magazine, alongside climate change activist Greta Thunberg, former First Lady Michelle Obama and other music stars including Lady Gaga and BTS.
4. Purrfect part
Anticipation is building for what is set to be one of biggest films this Christmas, Cats. Not only is famous feline fan Taylor taking on the role of Bombalurina, but she has co-written a new song 'Beautiful Ghosts' with Andrew Lloyd Webber.
Moreover before the film has even been released, the song has already been nominated for 'Best Original Song' at the Golden Globes, and is predicted to be among the nominees in the same category at the next Oscars.
5. All this and she is only 30
Last week also saw Taylor reach another major milestone – she turned 30 on 13 Dec. And where better to celebrate than by performing at the Jingle Ball at New York's Madison Square Gardens? After taking to the stage she told the huge crowd: 'So I had a choice, you know: Where would I want to spend my 30th birthday? And the answer is, you're looking at it. This is the first show of my 30th year of life."

She is also set to have a wonderful Christmas, following the release of her surprise festive track 'Christmas Tree Farm' which is a nostalgic look back at her childhood growing up in such a setting, complete with a music video made up of personal home footage.

The new issue of WhatsOn is out now. Subscribe here to get your copy.

WhatsOn Calling…
If you like WhatsOn, why not do us a favour. More & more people getting involved and supporting WhatsOn. We are independent & progressive, unlike many corporate media - We know you want WhatsOn to benefit as many people as possible Now we need your support, WhatsOn will continue to engage with cutting edge events, news & reviews of our times and hold power to account & champion social justice. WhatsOn's independence means, we are free from corporate & commercial bias. However, we need your support to give a voice to the voice less and keep our independence. We rely on the support of our readers and any amount , big or small, makes a valuable difference. Thank you. SUPPORT WhatsOn!