Amazon Wildfire Halted Brazilian Football Match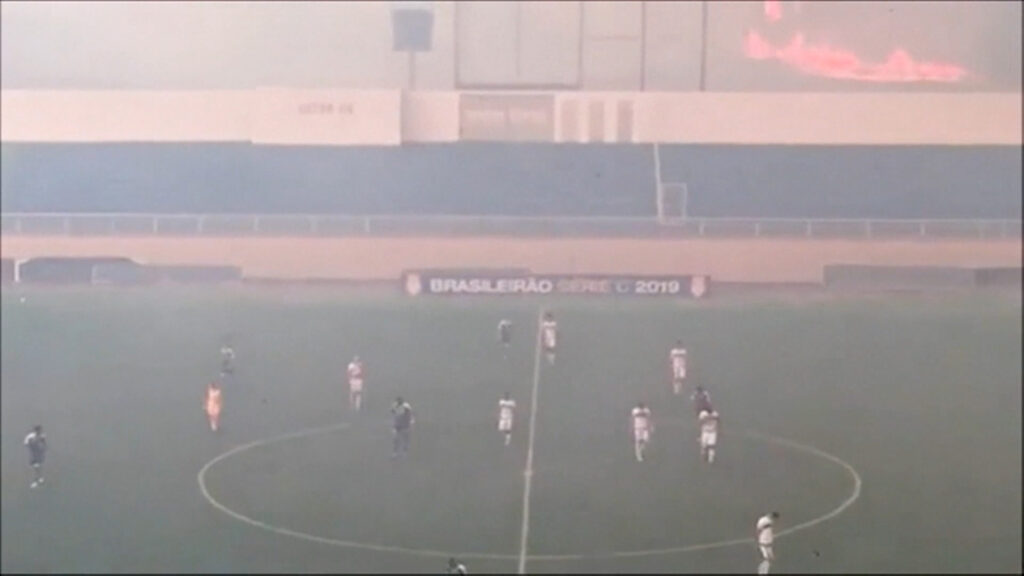 > Dipto Paul

A football match had been stopped on Monday due to smoke from Amazon wildfire at the Rio Branco city in Brazil.

The referee stopped the game between Atletico Acreano and Luverdense in Brazil's Serie C due to smoke causing poor visibility.

The game was halted in the sixth minute before restarting the match.

Though, for some inner reason the match started 15 minutes later from the exact time but after playing only 6 minutes Amazon wildfire smoke covered the whole stadium.

As the visibility was very poor in the stadium, referee had to stop the play.

There have been a record number of fires in the Amazon this year and world leaders brand it an 'International Crisis'.

G7 countries made a 20 million aid offer to fight the blazes but Brazil president Jair Bolsonaro has rejected the offer of support.

The wildfire is still burning the largest rain forest which is a great threat for the whole world.

When the visibility was clear in the stadium, the match started again and ended with a 3-2 goal win of Atletico Acreano.

The new issue of WhatsOn is out now. Subscribe here to get your copy.

WhatsOn Calling…
If you like WhatsOn, why not do us a favour. More & more people getting involved and supporting WhatsOn. We are independent & progressive, unlike many corporate media - We know you want WhatsOn to benefit as many people as possible Now we need your support, WhatsOn will continue to engage with cutting edge events, news & reviews of our times and hold power to account & champion social justice. WhatsOn's independence means, we are free from corporate & commercial bias. However, we need your support to give a voice to the voice less and keep our independence. We rely on the support of our readers and any amount , big or small, makes a valuable difference. Thank you. SUPPORT WhatsOn!