Angelina Jolie at Rohingya Refugee Camps in Bangladesh
The Hollywood star and UNHCR special envoy Angelina Jolie is on a three-day visit in Teknaf Upazila of Cox's Bazar to assess the needs of the refugees and the critical challenges the country is facing as a host.
Humanitarian Angelina Jolie went straight to the camp after arriving in Dhaka on Monday and met and talked to some of the 750,000 Rohingyas, who fled from Rakhine during a brutal military crackdown in late August 2017.
Jolie has shared the stories of rape survivors in Myanmar's Rakhine and called for an end to violence in Rakhine, which UN officials have compared to genocide, and demanded action against the perpetrators.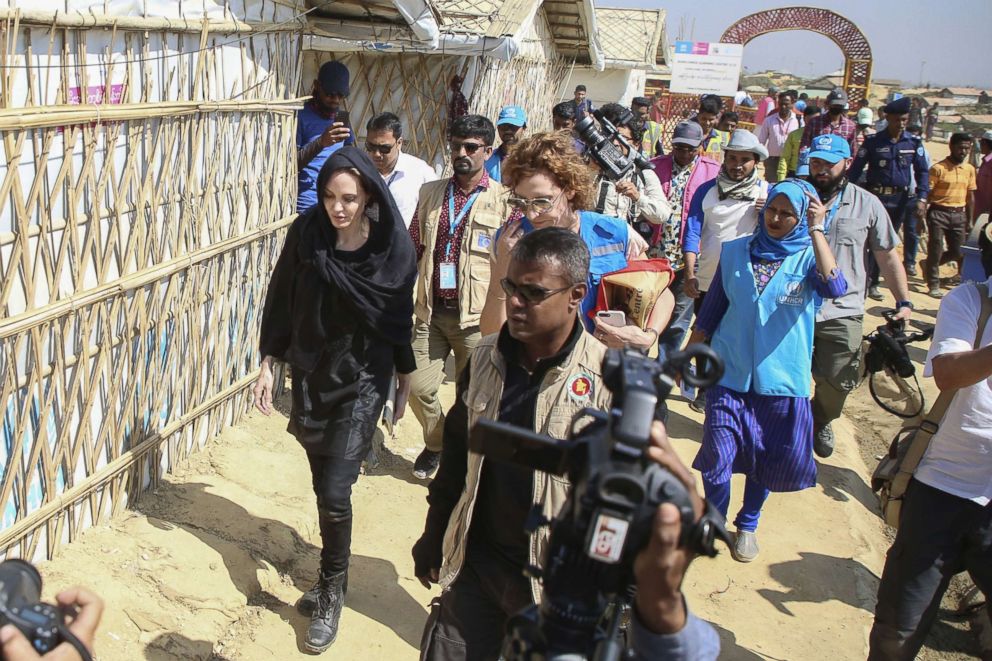 A report says, more than 900,000 Rohingya live in Bangladesh's Cox's Bazar district, the settlement is now spread across 5,800 acres, and much of it cleared forest land. Most Rohingya are terrified of returning to Myanmar, so it remains unclear for how long Cox's Bazar will remain refuge.
Jolie said "I urge the Myanmar authorities to show the genuine commitment needed to end the cycle of violence and displacement and improve the conditions for all communities in Rakhine state,"

"It was deeply upsetting to meet the families who have only known persecution and statelessness their whole lives, who speak of being 'treated like cattle'," Jolie told reporters.

Jolie said, "the Rohingya families I have met are no different from other refugees in one crucial respect: they want to be able to return home". But "the refugees should return home "only when they feel safe enough to do so voluntarily and they know that their rights will be respected".

This was Jolie's first trip to Bangladesh and the visit comes as the United Nations attempts to raise $920 million for the refugees. She has previously met displaced Rohingya while in Myanmar in July 2015 and in India in 2006.

She will conclude her visit on Wednesday by meeting Prime Minister Sheikh Hasina, foreign minister AK Abdul Momen, and other senior officials in Dhaka, a UN statement said. The meetings would focus on how the UN refugee agency could best support Bangladesh government's efforts for Rohingya issues.

>Juthy Saha

The new issue of WhatsOn is out now. Subscribe here to get your copy. Subscribe here to get your copy.

WhatsOn Calling…
If you like WhatsOn, why not do us a favour. More & more people getting involved and supporting WhatsOn. We are independent & progressive, unlike many corporate media - We know you want WhatsOn to benefit as many people as possible Now we need your support, WhatsOn will continue to engage with cutting edge events, news & reviews of our times and hold power to account & champion social justice. WhatsOn's independence means, we are free from corporate & commercial bias. However, we need your support to give a voice to the voice less and keep our independence. We rely on the support of our readers and any amount , big or small, makes a valuable difference. Thank you. SUPPORT WhatsOn!