Bangladesh National Zoo
Mirpur-1, Dhaka
dhakazoo.org
The zoo is currently home to 2,150 animals from 134 species of native and non-native animals and wild life. This is the biggest zoo in Bangladesh and previous name was Dhaka Zoo. It attracts around 10,000 visitors every day with the number increasing during the weekends and holidays.
It exhibits 58 species of mammals, including elephants, cheetahs, rhinos, zebras, waterbucks, otters, hyenas, deer, giraffes, impala, black bears, tapirs, hippos, lions, many species of monkeys, chimpanzees, baboons, and Bengal tigers.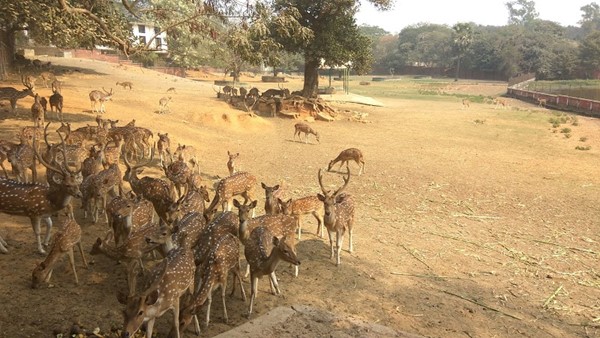 The aviaries at the zoo house more than 1500 birds representing 91 species, including peacocks, rhea, African gray parrots, cassowary, owls, ostrich, emus, teals, finches, babblers, owls, vultures, and eagles. The two lakes at the zoo also host migratory water birds each winter.
Visitors can also see 13 species of reptiles including snakes and crocodiles, and 28 species of fish. Elephant-back and horse-back rides are available at the zoo and fishing also.
The yearly budget of Dhaka Zoo is Tk 37.5 million, out of which Tk 25 million is spent on feeding the animals.
Entry> 30TK ( Free for below 02 years)