Boyzone Announce Farewell Tour, Soon to Release Final Album "Thank You & Goodnight"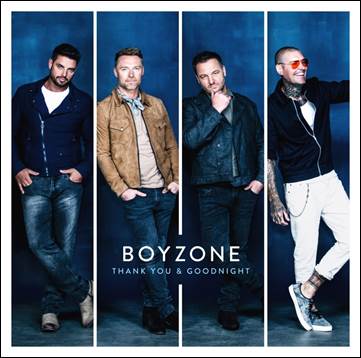 It's been a long and remarkable journey for the band Boyzone. After a very successful 25 year career, with six UK #1 hits and five UK #1 albums, band members Keith Duffy, Mikey Graham, Ronan Keating, and Shane Lynch are bidding their fans adieu with their final album appropriately titled Thank You & Goodnight.
The album is full of incredible collaborations, featuring songs written by Ed Sheeran ('Because') and Gary Barlow ('Love'). Some songs on the album were also produced by amazing talents Xenomania's Toby Scott, John Shanks (Take That, Westlife), young Swedish hitmakers Goldfingers and Steve Soloman (James Arthur, Jason Mraz).
The album is set to be released on 16 November. In addition, the band will pay tribute to their fans one last time with a farewell tour across the UK and Ireland, beginning in January.
"When we started out as five young Dublin Northsiders, eager to face the world, we never imagined that we'd still have an army of fans some twenty-five years later… If you'd seen our famous first TV appearance on The Late Late Show, you'd probably be surprised too!" the band said.
"But what followed was the stuff of dreams. We've played stadiums and arenas all over the world, released six albums, and had almost two-dozen hits. We really can't put into words just how much you, the fans, have supported us along the way. Without that support, we would have never achieved what we have, and for that we're eternally grateful."
The band recently released their lead single 'I Can Dream', accompanied by a lyric video. The song is a special tribute to former member Stephen Gately, who passed away in 2009.
"We're especially excited to share a very special tribute to Stephen in the shape of a new song, 'I Can Dream.' We came across a demo that he originally recorded for his solo album in 2002 and we've had the opportunity to re-work the song and add our harmonies alongside his lead vocal. It was a bittersweet experience to hear all our voices together again. It's the closest the five of us will ever get to being in a room together again making music," says the band.
"And we're also eager to invite you all to one final celebration of twenty-five years of Boyzone and our journey together. We would love for you to raise the roof one last time as we head out on our farewell UK and Ireland arena tour."
The album is available for pre-order at www.boyzonenetwork.com, along with information about the tour. Fans who pre-order from the website will have early access to tickets for the farewell tour, which don't go on sale to the public until 22 June.
> Charlotte Amoa