WhatsOn Live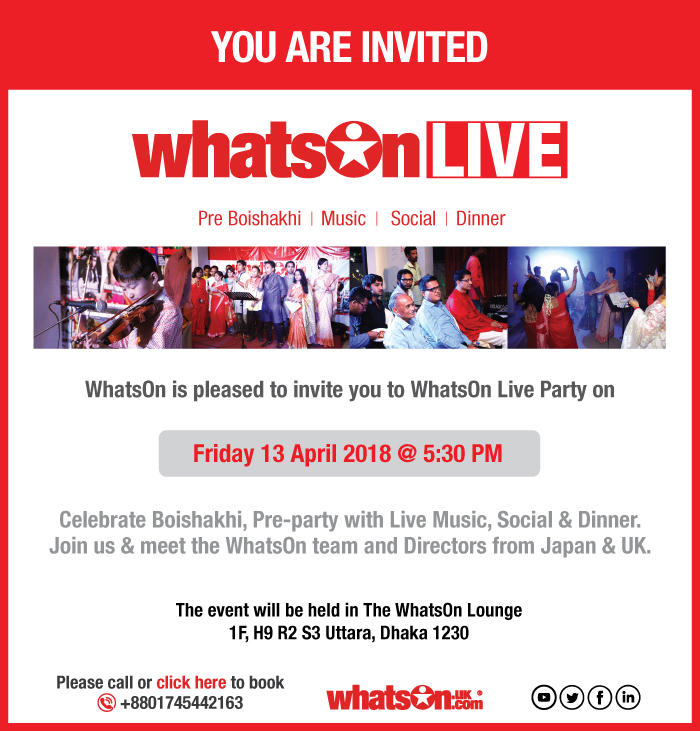 WhatsOn is proud to present an exclusive live programme which will be held on 13th of April, 2017. WhatsOn Live offers a real chance to sit down one-­on-­one with artist, writers, contributors, friends, family and associates to get instant feedback and a networking opportunity.
The main attraction of this event is the get-together of all WhatsOn staff with their relatives, contributors who are working for the development and the writers who compose articles for the WhatsOn magazine.
The presence of all people will make the environment more effective and enjoyable. A social meeting will be organized with these people who are playing an important role in our society.
Cultural music programme will be held at the social get together to make the moment more joyful and significant.
This event is an exclusive programme mainly for the new generation. These events are encouraging especially to new generation and young people who are in an attempt to develop their social values with their labour and hard work. Moreover, it is going to give a platform to the young people generation.
WhatsOn Annual live programme takes place every April. This is an annual meeting of media, art, actor, friends and family too.
Keep an eye on our website and social media accounts for more information on the event.
WhatsOn is pleased to invite you to WhatsOn live party.
For further information about Show Live visit whatson.uk.com
Friday 13th April @ 5:30 PM
There will be live music, social and dinner
This event will be held at the WhatsOn lounge 1F, H9, R2, S3 Uttara, Dhaka 1230.
Please call and book: 01745442163